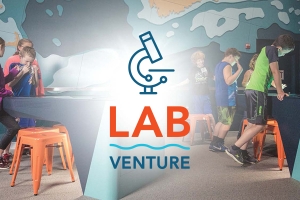 LabVenture is the cornerstone education program of the Gulf of Maine Research Institute. Since it began in 2005, it has delivered immersive, engaging, and interactive scientific learning experiences to about 10,000 Maine middle schoolers annually.
LabVenture combines traditional tools of science with high-tech interactive resources to enable students to explore Gulf of Maine ecosystems. Using large NASA satellite data, and numerous local fishery data sets, they investigate how warming ocean temperatures are affecting key species, including lobster and black sea bass. Students also have opportunities to measure live lobsters, observe plankton under microscopes, analyze real sea surface temperature data displayed on interactive touch tables, and conduct an underwater species survey at our biodiversity tank to answer the questions: What's happening in the Gulf of Maine? How do we know? And why does it matter?
LabVenture is available free of charge to Maine's fifth or sixth grade students from all 16 counties and includes transportation (for public schools) to and from our lab in Portland, Maine.
Book or Manage visit:
New to LabVenture? Create account to request and manage visits.
Already have an account? Request or manage your visits.
LabVenture staff will email you shortly with details on your scheduled visits. You can contact us with questions at [email protected].
Other Education Resources:
Learning Resource Hub: Follow up on your LabVenture experience by exploring our Learning Resource Hub, where you can find science learning resources to help you and your students engage in authentic, current science about climate and ecosystem change.
LabVentureExpress: Originally developed during the pandemic, LabVenture Express is a virtual learning experience adapted from our LabVenture program.
Field Notebook: Access your LabVenture Field Notebook, which allows students to record their notes and thoughts as they move through LabVenture and bringthe experience back to their classrooms and homes.