If you are trying to access your student notebook please go to notebook.gmri.org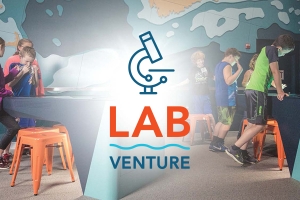 GMRI is excited to announce the launch of the new LabVenture experience. In its original design, the education program served over 120,000 students. Now, thanks to funding from NASA and others, we've totally reimagined both the learning experience and the physical space. Even the buses, which transport the students free of charge, have been redesigned.
The thousands of students who join us for LabVenture each year will now explore important questions about the Gulf of Maine using real-world data, such as sea surface temperature and species abundance. They'll do all this in our fully renovated Cohen Center for Interactive Learning — a one-of-a-kind lab space in which students will measure live lobsters, examine plankton under a microscope, and analyze data related to key research questions.
Additionally, a newly developed set of classroom resources for teachers will help extend LabVenture back into schools. This site will serve as a portal to access those resources. It will also allow you to manage your LabVenture visits and request a visit for your class. All of this is coming quickly, so check back soon!
Sign Up for a Class Visit
To request a visit to LabVenture for your class, you will need to create a GMRI account for yourself by clicking the Sign-Up link above. If you already have a GMRI account, you can log in and request your visit by following the Request Visit link above. Once your visit is requested you will see it listed on the My Visits and Requests page. Keep an eye on your email, as LabVenture staff will reach out shortly to begin to schedule your visit. If you have any additional questions, the LabVenture staff is happy to help. Contact us at [email protected].
Learn more about GMRI's education programs: